By Jenny Oklikah, Fight for Peace CEO

"Looking back at 2022, I am filled with a deep sense of admiration and pride for our incredible team of young people and colleagues, who have shown phenomenal resilience and determination across the year.
Following on the back of nearly two years of the challenges brought on by the COVID-19 pandemic, and in the face of an emerging and deeply concerning cost of living crisis, our team has been positive, optimistic and united. To use a combat sports metaphor, they have shown that it is not that you get knocked down, but rather how you get back up again. We are leaner now, however we are building back steadily and grounding our work in togetherness, collaboration and creativity.
Our young people have been at the forefront of this process. They have led on the design, funding and delivery of initiatives, like the young women in our Lutadoras leading the Your Best Friend project, they have brought their creative and technological skills to tell their stories and the stories of our organisation through the Young Creatives Project, and they have provided inspiration through sporting achievement and winning awards that reflect the Fight for Peace values that we hold so dear.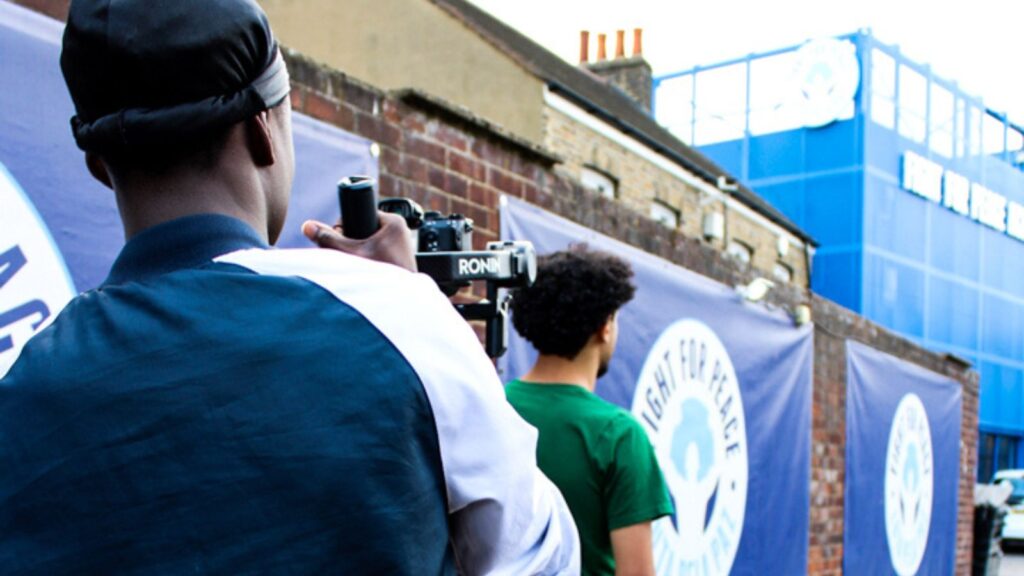 Our Next Gen colleagues, who know Fight for Peace intimately as former members and now as newer staff members, have also forged ahead by holding key positions in both our delivery of sports and mentoring services, and our back office support functions. The consistency and deep knowledge this brings to our team, and the ongoing development of these individuals is inspiring and essential.
Casting my mind to other high points of the year, I am reminded of the official opening of our Peace Garden, a space to remember the friends, colleagues and loved ones that we have lost; a new and highly successful partnership with our local Pupil Referral Units which supports young people through tailored combat sports and personal development sessions; addressing issues of violence and related harms with our ACT-AS-1 consortium partners; and the launch of our LGBT+ group Rainbow Gloves.
I am also proud of the work we do nationally in the UK, in particular via our partnership with Sport England through the Tackling Inequalities Fund – supporting communities to build back from the COVID-19 pandemic – and through our new status as a Sport England Systems Partner. We are delighted to have begun this work in 2022 and look forward to leveraging this partnership to strengthen our impact in communities most in need over the coming years.
With the world opening up, 2022 was also a year where we could stage and participate in an increased number of visits and events. This year we were delighted to open our Academy doors to a range of guests, among them Olympic Gold Medallist and Chair of UK Sport Dame Katherine Grainger, Sport England's Executive Director of Partnerships Phil Smith, and BAFTA Award winning actor Micheal Ward.
Micheal visited us in both London and Jamaica, where myself and our Academy Director were also able to pay a visit this year. On the trip we saw first hand the amazing collective work being led by the Fight for Peace team across three communities facing multiple challenges, including witnessing the international-level talent of the coaches working with young people, and the groundbreaking and innovative work being done in areas such as psychological first aid.
As I reflect back on the year, I want to express a sincere and deep gratitude to our partners and supporters who have made everything we do possible. At Fight for Peace we believe in the enormous talent, potential and futures of young people and we are fortunate to have partners and supporters who in turn believe deeply in our work and mission.
And so I look forward to 2023 with tremendous optimism for Fight for Peace. We will embrace the challenges that will come, continue to grow from strength to strength, and be guided by our values, our purpose and the incredible young people who make Fight for Peace the special place it is. We look forward to you being part of the journey with us."