Inspiring young people
to reach their full potential and promoting peace in our communities
Our work has three strategic focuses:
We work directly with young people at our Academies, developing their potential through integrated programmes of support and inclusion using our Five Pillars model
Via our Alliance, we exchange skills, knowledge and support with community-based partners around the world to strengthen our and their youth-focused programmes
Hear stories from some of team Fight for Peace around the world
young people directly supported at Fight for Peace Academies in 2020
Fight for Peace Alliance partner organisations around the world
partners working together to support young people in communities in Jamaica
countries in which Fight for Peace works directly and/or via trained
partners
years supporting young people and promoting peace in communities around the world
Our 2021 Annual Report looks at Fight for Peace's work worldwide, amidst overcoming the COVID-19 pandemic, made possible by our supporters and friends.
read more
This Pride month, we introduce our Rainbow Gloves group with our new branding and logo, and take part in LGBT+ training with Diversity Role Models!
read more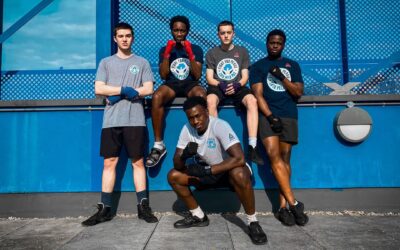 We catch up with young Fight for Peace boxers to find out what keeps them coming back to the gym, and the impact on boxing on mental and physical health.
read more