At Fight for Peace our values are very important to us. They help build the foundation for the work we do to support young people within our communities, and we are always seeking growth in how we ensure that everybody who walks through our Academy doors feels accepted and embraced.
Over the past six months, as an organisation we have been doing some work in order to make sure that we are as inclusive as possible, and have created a group called Rainbow Gloves. This is a group at Fight for Peace that helps us as an organisation be more supportive and inclusive of the LGBT+ community, including colleagues and young people.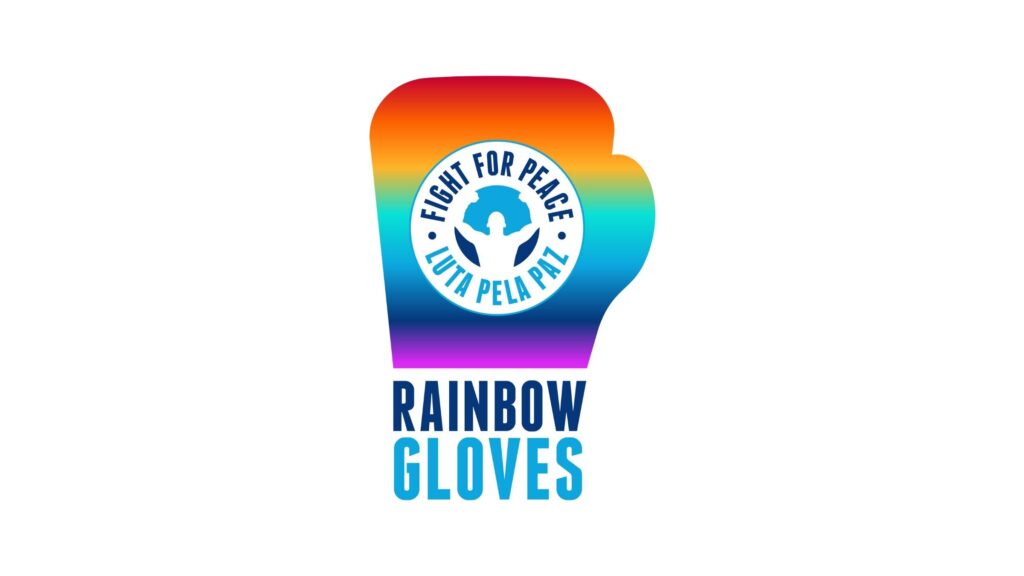 We understand that engagement in sport for LGBT+ people can be extra challenging. According to studies carried out by Stonewall, an organisation that advocates for LGBT+ rights, 1 in 8 LGBT+ people avoid going to the gym or participating in sports groups because of fear of discrimination and harassment.
Figures like these only emphasise the work that is still to be done within the sporting world to combat discrimination against LGBT+ athletes and individuals.
Founder of the Rainbow Gloves group and Fight for Peace's Head of Monitoring, Evaluation and Learning, Giancarlo Angelucci, tells us why he thinks it's so important to have brought some of the Fight for Peace team together to form this group:
"One of our core values is Embracing – making sure that anyone at Fight for Peace feels welcome and included is an integral part of what we do. Having established Rainbow Gloves is a great first step towards being more intentional in supporting LGBT+ young people and their friends."
During monthly meetings, the group decided that training for all staff was a priority before creating visibility and awareness of the group. It was important that we engaged in education of LGBT+ needs before moving forward with any affirmative action.
We want to be able to offer the best support possible to any young person who may want to reach out about issues around gender identity or sexual orientation, and this was the first step.
We were excited to receive a visit from Diversity Role Models, an organisation that seeks to embed empathy and inclusion in the next generation. Their focus and commitment to young people meant that they were a perfect fit for Fight for Peace.
Head of Education, Jac Bastian was joined by a volunteer, Tara Maclachlan, and together they delivered a workshop which highlighted some key LGBT+ concepts and issues, from defining terms related to the community, to ways our organisation can approach supporting young people who identify as LGBT+, or those who are still figuring it out.
It was an incredible and engaging session for many of us as we looked into what it means to identify as LGBT+. We heard first-hand experience shared by Tara, a transgender woman, on the power of sport and ensuring that it is open and welcoming to all young people. And Jac, who is queer, led a discussion on how we can challenge streotypes and embed LGBT+ inclusion across all the work that we do.
Fight for Peace's Chief Executive Officer, Jenny Oklikah who participated in the session, explained:
"At Fight for Peace, we are committed to championing diversity, inclusion, and justice in everything we do, including helping to address the barriers faced by LGBT+ young people and colleagues. Solidarity and Embracing are two of our values and it's essential that we demonstrate how we live by these."
"The creation of our Rainbow Gloves group was a significant step forward and I applaud the progress the group is making. It was great to have Jac and Tara with us at the London Academy to share their knowledge and experience. The session was insightful, thought-provoking, and inspiring, and an important part of our ongoing development."
"I'm proud that Fight for Peace is taking positive steps to celebrate and support the LGBT+ community. This work will help us strengthen our practice and culture to ensure we provide the best support to every young person who walks through our doors."
Through promoting LGBT+ inclusion around our Academy with communications featuring our new Rainbow Gloves branding and logo, posters and other support resources, we work for all young people to feel safe being their authentic selves. This includes having the support of staff and fellow Fight for Peace members, standing up for our values and against discrimination and bullying, and growing the Rainbow Gloves group to help shape the way that we offer support.
Our Rainbow Gloves group works so that LGBT+ young people and staff members at Fight for Peace feel safe and free to express themselves and is open to people of any age, gender, and sexual orientation. To find out more on how you can join, please contact rainbowgloves@fightforpeace.net.
If you are looking for support or have a question on sexual orientation or gender identity, you can:chat with the Switchboard.lgbt helpline online or give them a call on 0300 330 0630. Switchboard is not affiliated to Fight for Peace so we will never know what has been discussed.
Happy Pride month!