At the start of 2023 a new and exciting Mixed Martial Arts (MMA) class was added to the Fight for Peace Academy timetable!
The session, which is led by coach John McFadyen welcomes young people aged 14-25 of all abilities, and takes place in the Academy Dojo at 5.30pm every Wednesday and Friday.
For many, MMA is the most complete, and most challenging martial art as it brings together diverse skills disciplines from across combat sports – including boxing, muay thai, wrestling, Brazilian Jiu Jitsu, and judo – and demands that participants are multi-skilled and extremely fit.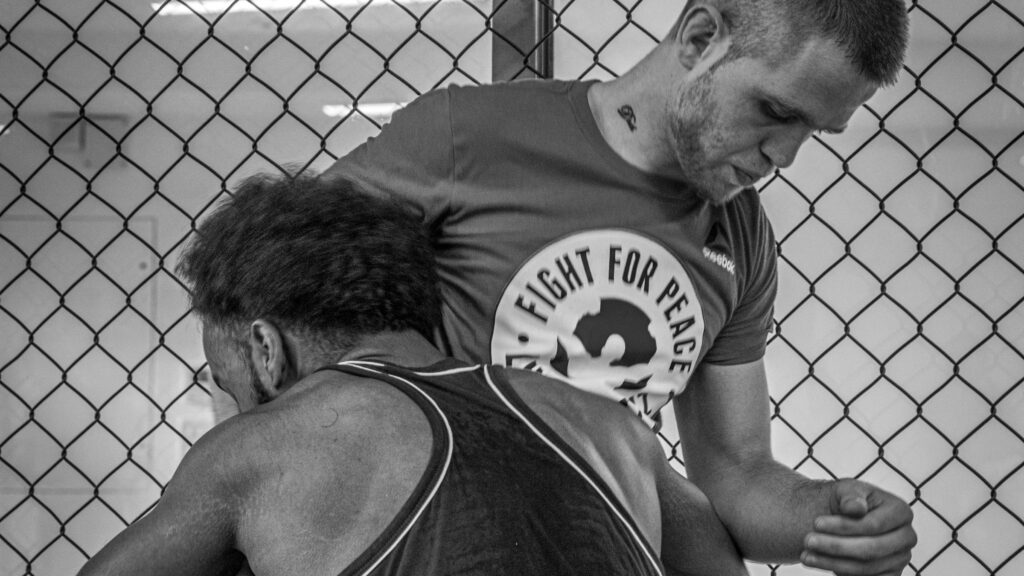 This is a recipe for not only building supreme athletes but also for helping develop high levels of dedication, resilience, and mental and physical strength in participants – skills we all need to succeed in our lives outside of the gym.
"The vision is to build a strong MMA team here at Fight for Peace, a group that trains together week in week out and helps each other reach their goals on and off the mats," explained coach John. "We want to give those who want to compete the best preparation and a platform for them to reach their potential and excel in the sport," he added.
"Of course everyone has different motivations and not all participants will want to compete in the sport, however the benefits of MMA, in terms of wellbeing and transferable skills, are beneficial to all of us who practise the discipline. And that's what we are all about at Fight for Peace – developing the whole person," said John.
This is not the first time that Fight for Peace has offered Mixed Martial Arts, indeed coach John himself first became involved at the Academy as a MMA participant back in 2015, and went on to represent the team in competition.
In its previous incarnation, MMA helped build the foundations for athletes who today are competing at an elite level on international competitions These include Kingsley Crawford, Jawany Scott and Sabir Hussein.
The team also had the pleasure of having the UFC's Meatball Molly McCann train with them when she was at an earlier stage of her career, as well as having UFC star Arnold Allen present awards to Fight for Peace athletes at an end of year event.
In its first month back, MMA has already proven to be a very popular session, with a full dojo and many spectators through the windows in the Fight for Peace Academy hub! The team's always looking for new members so, for the curious, or the more experienced athlete, come join.
Mixed Martial Arts sessions happen every Wednesday and Friday at 5.30pm and are open to all young people aged 14-25. All levels are welcome and no prior experience is necessary. Fight for Peace is an accredited club with the English Mixed Martial Arts Association (EMMAA).