The Cross Country Competition gave young people aged seven to 18 the opportunity to put their teamwork and discipline to the test, with activities including sack and wheelbarrow races, an obstacle course and blanket volleyball – with everybody leaving as a winner.
"The kids really looked forward to being out and seeing their coaches and people from other communities. It was good to see them play and work together and build that community spirit," shared Zann Locke, UP Unity & Peace Community Coordinator for Trench Town.
UP Unity & Peace Programme coordinator, Mark Cole, was really happy with the event, explaining that "each group of young people enjoyed themselves and we even had some of the younger groups winning against the older ones!"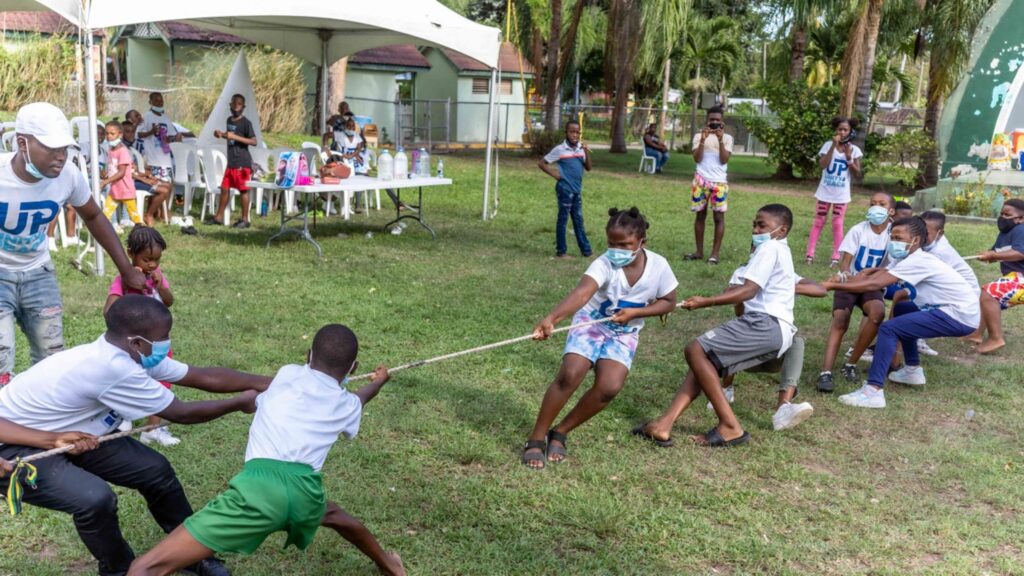 "Usually we have the participants divided in groups based on the activities they do with Fight for Peace, including boxing, taekwondo and book club; but this time we had everyone come together and work as a group with people of different ages from their communities," he continued.
It was also a chance for the psycho-social team that offers support as part of UP Unity & Peace to check-in with young people, offering study tips for school exams in a few weeks.
Michelle Harrison, Psychologist with the UP Unity & Peace programme also remarked how important it is for young people to have access to green areas and open spaces to engage in imaginative play and create games together to improve social skills and communication. 
Access to sport is one of the Pillars of the Fight for Peace Five Pillar methodology. Physical activity not only helps improve physical wellbeing, it also gives young people an avenue to de-stress, and learn life skills that contribute to growth as individuals and help tackle obstacles throughout life.
The power of sport also helps young people build the confidence to achieve success as well as a myriad of other skills such as discipline, respect, critical thinking, patience, conflict resolution and leadership.
Project Coordinator, Mark reiterated some of these benefits while explaining that "after two years of limited face to face interactions, it was good to see the young people play together and cheer on their teammates. It shows that sport really brings people together."
Fight for Peace has been working in Kingston, Jamaica since 2016 under the UP Unity & Peace Collective which uses a collective impact approach to bring together organisations and services to deliver programmes and support to young people across focus communities.