During the 2023 edition of Black History Month two Fight for Peace Young Creatives opted to find out what people understood by and felt about this annual month-long event. Through a series of interviews captured for the Fight for Peace Instagram channel, Amet and Daniel gave a number of young people and staff a platform to express their open and unfiltered opinions on what Black History Month means to them.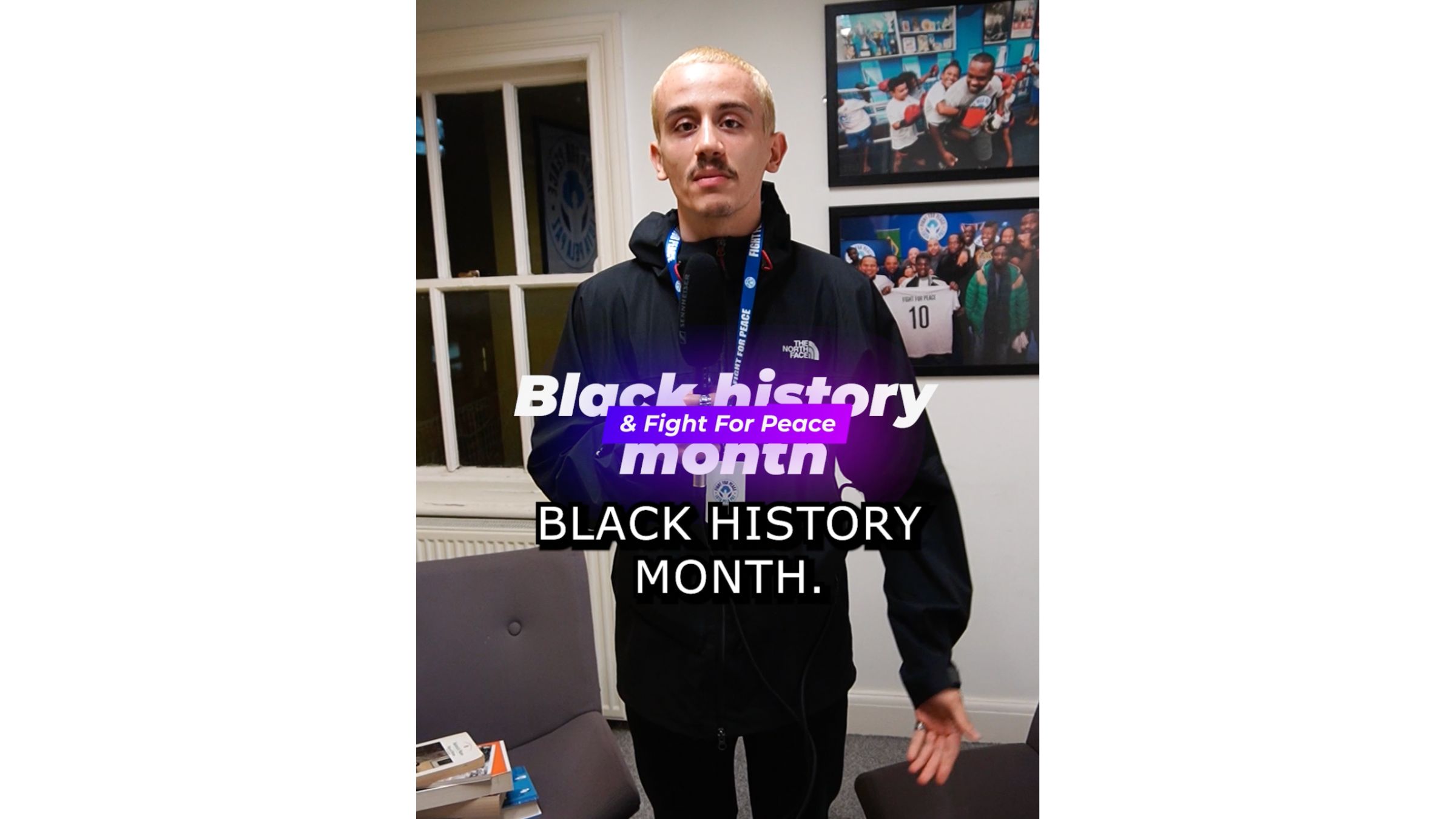 "We wanted to see what people's ideas were," said Amet. "There were a lot of different ideas, a lot of different perspectives, people giving reasons why they support Black History Month or why they don't support it, just personal points of view."
Sebastian, one of the young people interviewed for the project, thought that the month was an important opportunity for people to increase their knowledge: "I think it's good, it teaches people about history, about what Black people had to go through. People should know about history, and Black history too," he said.
Tommy, a founding member of the Youth Power youth leadership group at Fight for Peace, had similar thoughts, laying out very eloquently his support for having a month to celebrate Black history:
"I think it's important to recognise Black people's history and the history that Black people have made for everybody's history. The majority of people in this world's history is influenced or shaped by Black history. A lot of people think that Black history is just for Black people but I think everybody should understand where Black history plays a part in everybody's history."
It wasn't just young people that were interviewed by Amet and Daniel, staff members were also asked for their views, among them Josh, who works across the Borough of Newham to bring services for young people together.
"I am always learning, and I think Black History Month is a great way for those people who don't learn about history to take time out," explained Josh. "And for those that do there is always a lot more to learn so I think it's a brilliant thing to have."
Different perspectives and debate are an important part of learning and are encouraged at Fight for Peace. Of course, not everyone had the same thoughts on this topic.

Among those with different views was Michael who is a Boxing Coach and Youth Worker at Fight for Peace and has been involved at our Academy in one form or another since 2007 having joined as one of the first members when Fight for Peace opened.
"Controversial answer, I think Black History Month is stupid," said Micheal. "What tends to happen is that you congregate all your attention and energy on one month and you forget about it for the other 11 months. What we are saying is let's focus on one idea for one month and for the rest of the year we no longer need to discuss it or address it."
The brilliant creative work of Amet and Daniel has given us a really good opportunity to hear people's views directly about a commemorative month that provokes different opinions. Big shoutout to these two for opening up this space for discussion and hosting, filming and editing the clips, which can all be seen on Fight for Peace's Instagram channel @fightforpeace. Well done team!
Amet and Daniel are both Fight for Peace Young Creatives. The Young Creatives Project aims to nurture young people's creative talent by giving them support and opportunities to develop their skills in film production, photography and social media content. The work of Young Creatives is published on the youth-led Fight for Peace Instagram and YouTube channels, go check it out!