Over the years we have worked with an abundance of inspiring young people, growing a team of dedicated athletes – many of whom have recently been putting in the hard work in preparation for their upcoming competitions.
Back in February we saw muay thai athletes, Tommy, Kyle and Tomas compete in the Team Tieu interclub at Charge Up gym in North London. The non-decision competition gave athletes the opportunity to practise their technique and skill in a controlled environment. All three dominated their bouts, leaving the ring feeling even more confident than when they entered.
In an interview, Tommy explained to us that at the beginning of the year he set himself a goal to have his first competition. No more than a couple of weeks later, he was presented with the opportunity to be put forward for his first interclub.
Following his bout Tommy told us that he already can't wait for the next one. "Now that I've achieved this, I feel like I can do anything," he said.
This weekend Tommy was due to be joining teammate Kyle at the KO Combat Academy interclub for his first decision bout. However, after a stroke of bad luck got sick at the end of training camp and had to prioritise his recovery and the decision was made for him to be pulled out. Despite this, Tommy remains optimistic about his future as a muay thai competitor and is looking forward to returning to training in full health.
So, what is it that makes the sport so special that Tommy and his teammates keep on coming back, giving their all, and overcoming such challenges?
"For me," Tommy said, "I was at a point in my life when I needed some direction and wanted to dedicate my time to something I'm passionate about."
"The aspect of discipline, of devoting myself to something consistently is something I can apply to other parts of my life. The ability to repeatedly do something and constantly adjust it week by week while improving, taught me that things change, circumstances change and you have to learn to adapt," he explained. 
"You know, you can't do the same thing all the time and expect it to work. That's one thing muay thai has taught me."
"Also having a good coach, team, and a strong community around the sport is really important. It makes the sessions more enjoyable. Training with people who are going through similar things to me, we all push each other, we critique each other and we are in a constant state of improvement which is how it should be."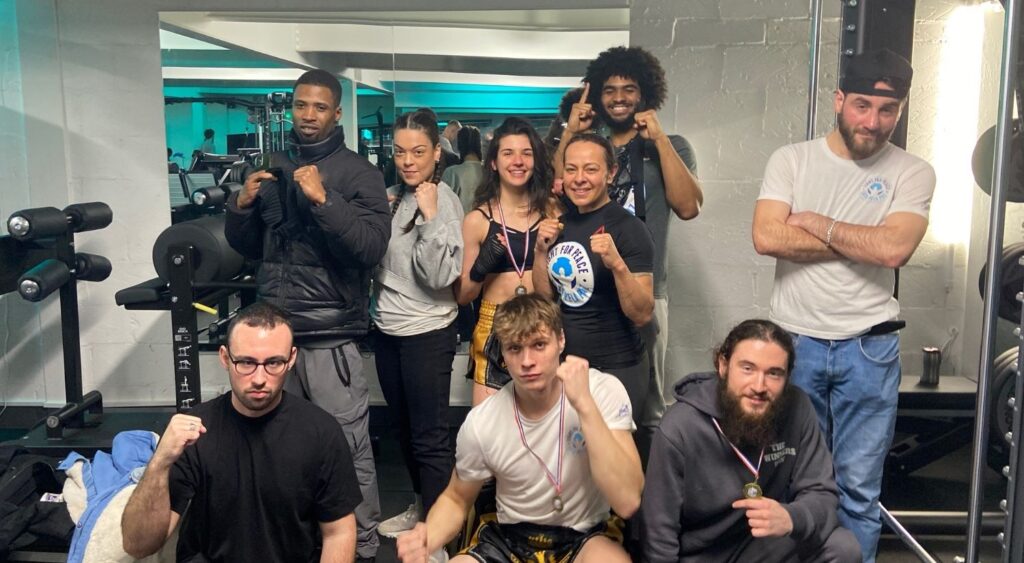 For teammate Kyle, who will represent Fight for Peace this weekend, it's an opportunity for him to showcase his improvement and ability to come back stronger after his loss in December at the Road to Muay Thai Grand Prix.
"I was quite disappointed with my last performance. I ended up getting stopped in the third round because of my cardio, but I've taken steps towards bettering myself in that area to make sure that hopefully it won't happen again. I'm looking to finish the rounds, and get the win," Kyle told us.
There is so much power in taking challenging experiences and using them as a way to set new goals and push towards overcoming adversity. And at Fight for Peace, we are proud to work with so many incredible young people with such strong spirit, and who inspire us to work harder and achieve more everyday.
"Mentally and physically this sport is really tough. Sometimes you feel like you've pushed yourself to your maximum limit, but others see more in you. And that's motivation," Kyle said.
"You're going to try harder if someone is urging you to do better, so it's important to have positive people around you that want you to do better, and you can do the same for them," Kyle continued.
One of those positive teammates is Tomas, who has been training since he was a teenager, but only started taking muay thai seriously a few years ago when one of his training partners recommended Fight for Peace to him.
Tomas is now preparing for his Road to Muay Thai Grand Prix debut at the O2 arena this April, and has a number of interclub experiences under his belt.
"I just thought to myself one day, why not just see how much potential you have, what the highest levels you can reach are by doing what you already enjoy doing," Tomas explained.
"It was a different kind of challenge when I came to Fight for Peace. I was really struggling in the first few training sessions, but my coach and teammates pushed me mentally. I enjoyed the challenge and the feeling I got once I beat it," he continued.
The ability to overcome those physical and mental challenges in the gym creates the opportunity for wider growth, helping us navigate through hard times to come out of the other side with a stronger sense of self-belief and confidence.
"Muay thai, just like any other kind of sport, gives you the blueprint to success," Tomas told us.
"It breaks things down to the most basic level. So much so that you have to put in the work, you have to put in the time, you have to do it consistently enough and then, only then you'll start seeing the results. This can translate into any other area of life. When you put in that amount of work it's going to give you the results that you deserve."
Speaking of results, Tomas left us with some final thoughts on how he's feeling about his much anticipated journey to the big stage in a few weeks.
"I'm feeling confident – as confident as ever. I can't wait to show myself and everyone else what kind of performance is going to manifest after all of the training I've been through. I've been waiting far too long for this."
Good luck to Kyle who is competing this Saturday at the KO Combat Academy interclub, and all the best to Tommy as he recovers. Big up Tomas who will also be stepping into the ring for the Road to Muay Thai Grand Prix event on Sunday 3 April. Let's go champs!