Every year at Fight for Peace, our incredible Monitoring, Evaluation, and Learning (MEL) team gathers a wealth of data through our Annual Questionnaire, which sets out to find out the impact that our work has on our young members.
It's the perfect opportunity for us to find out more about what we are doing well, as well as ways in which we can improve and grow through listening to our young people.
We circulated our Annual Questionnaire among Academy members at the end of 2021 to capture their views and feelings on how the last 12 months have been for them at Fight for Peace.
Although 2021 has been a difficult year for everyone, it was also a time when we began to see our services resume to normal levels as many young people attended the Academy more regularly.
A total of 56 members who are over the age of 14 (of which 32% were young women) responded to the questionnaire, joined by 17 members under the age of 14. This significant sample size represents the 642 Academy members that have attended our activities in 2021.
The results were really impressive, with a humbling 88% of respondents sharing that we are doing a good/excellent job at delivering our services to young people.
And after a lot of sweat and hard work put in at the gym, it's not surprising that young people report that they feel a lot healthier and fitter as a result of the range of boxing and martial arts sessions that we provide (78%). 
We're also interested in the impact that these sessions have had on our young people outside of the gym. 100% of respondents stated that our services had an impact on their mental well-being, with the majority feeling more optimistic about the future, and many feeling a lot more energetic and focused.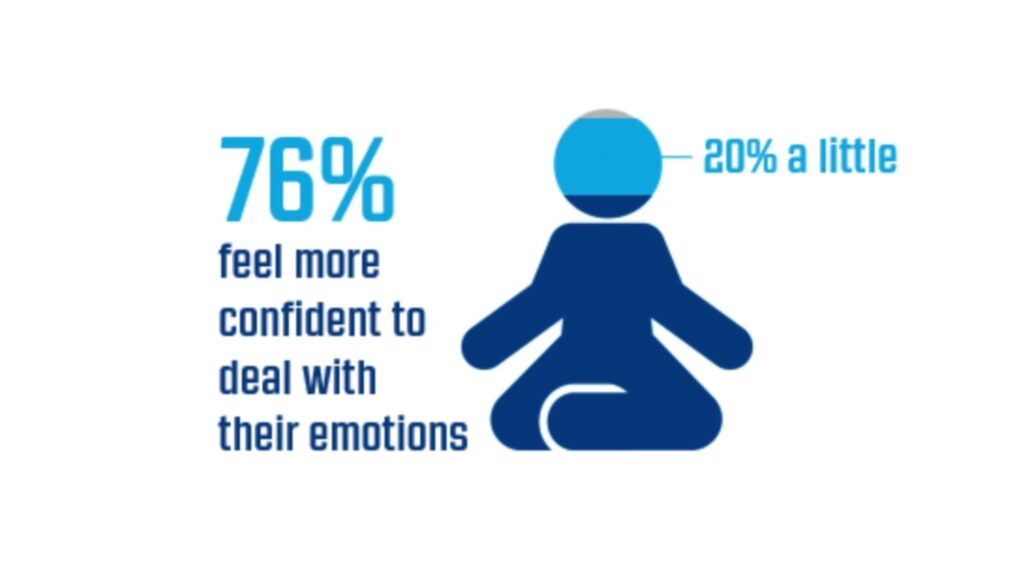 Of our younger members (aged 7-14 years) who attend our Twilights sessions, 70% of those asked believe that they are more likely to stay calm and solve problems since attending Fight for Peace, and 100% feel welcomed and accepted at our Academy.
As the questionnaire results show, the various aspects of our work combined – from sports activities, to the one-to-one relationship with a coach or a mentor – have been of significant benefit for young people. 74% of those we asked are confident that they can reach out to their coach or mentor to discuss any issues they are facing, or to ask for help.
For us, it's great to know that the implementation of our Five Pillar model (Boxing & Martial Arts, Education, Employability, Support Services and Youth Leadership) is providing the opportunity for the development and growth of our young people to reach their full potential both inside, and outside of the gym.
Being a member of Fight for Peace also means having the opportunity to interact with a diverse group of young people from many different cultural and ethnic backgrounds. Working out together and mixing with other young people has helped our members make new friends and gain confidence in getting to know people who are different from them.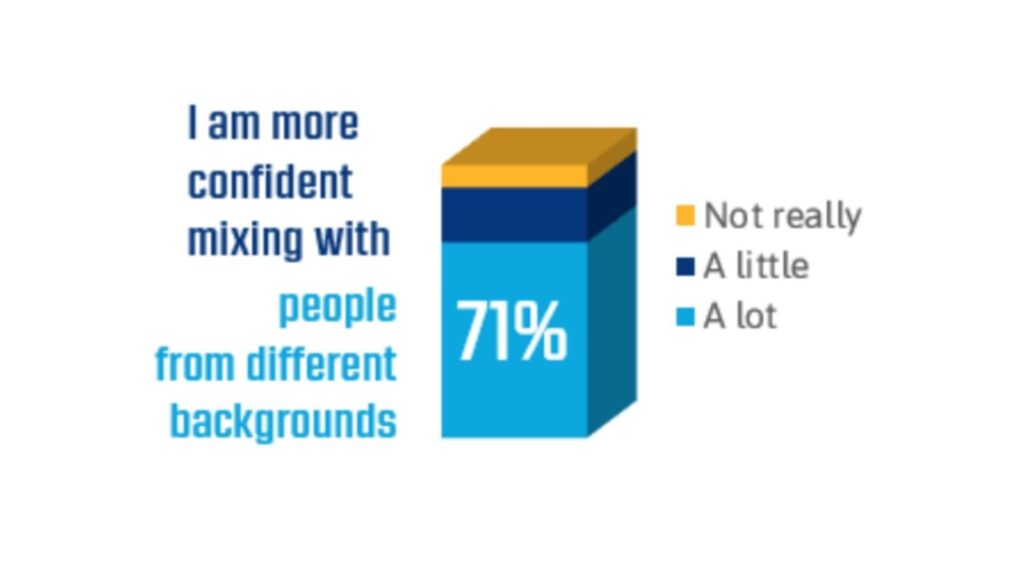 This is reflected in the fact that 87% of our respondents shared that they have made some, or many friends, while 81% noticed that they have had stronger relationships at school or at work.
Youth discussion groups, such as Lutadoras (female only), Man Talk (male only), and our Youth Council, are also an effective space for building openness to other people's ideas. 90% of respondents agreed that this was the case, and that they also gained great communications and leadership skills from taking part in our personal development and leadership sessions.
It's been a pleasure hearing from some of our young Fight for Peace members, and we hope that the results from the past year can both encourage existing members to continue enjoying our services, and help us as an organisation deliver the very best services to our young people! It's been a rich year of learning for not only our young people, but our organisation as a whole, and we are looking forward to seeing what 2022 brings!