A small Fight for Peace production team headed north last week to spend some time with and draw knowledge from two Alliance organisations based in Yorkshire. The purpose of the trip, beyond catching up with old friends and partners, was to capture footage for a new Fight for Peace Alliance short film which will be shining a light on the Alliance and highlighting the impact of organisations coming together to best support young people in our communities.
The two Alliance member organisations in question were the mighty Training Cave in Birstall, near Leeds, and the groundbreaking Vulcan in Hull. Both of these organisations have long associations with the Fight for Peace Alliance and both are nurturing an impressive group of local young people to excel in the boxing ring and far beyond. 
These organisations and their respective founders Jack and Seb have also built strong bonds based on mutual support and a shared goal of providing the best programmes and support to young people, with boxing programmes at the heart.
The Fight for Peace team making the journey was made up of James and Kayla from the Communications Team and young filmmaker Aladdin Benberna, who has been involved with Fight for Peace in a number of ways for over 10 years as a member, staff member and now freelance filmmaker working on a range of creative projects.
The team arrived in Birstall early on a bright but cold Wednesday morning to be greeted by Jack and a group of young people from a local secondary school participating in an alternative education programme delivered by the Training Cave.
These young people attend the Training Cave weekly and undertake boxing training as well as personal development activities such as goal setting, which, combined, results in them gaining a nationally recognised qualification.
Over the course of the day, the Fight for Peace team interviewed Training Cave Founder Jack, coaches Rich and Brandon, and young champs Noah and Harry before seeing the wonderful energy created in the boxing and fitness sessions that kick off every night of the week.
Training Cave aims to support people get Strong for Life, young people that are physically and mentally healthy and able to face the challenges and demands of life and overcome them with optimism and strength. It's an inspiring concept that permeates the whole Training Cave facility and ethos, and one that is reinforced by the approach of staff and the motivational quotes and organisational values that adorn the distinct black and red walls.
Day two of the film shoot saw the team travel over to Hull, home to Vulcan. Over the past seven years Vulcan has grown exponentially in the services and facilities that it offers to young people and members of the community. Today Vulcan offers a state of the art boxing gym and strength and conditioning suites, as well as classrooms, a professional kitchen running catering courses, and two new creative spaces for young people to develop skills in music and textiles, and construction.
This is not to mention the organisation's role as a distribution hub for food packages that are provided to local people in need of support amid extremely difficult circumstances.
For Vulcan's Founder Seb, offering this level of facilities and services, unrivalled in this part of Hull and surely matching anything around the country, is all part of encouraging and inspiring young people and athletes to go beyond in what they are aiming to achieve in their lives. This is all aptly summarised in the organisation's motto: Unlimited Potential, and in the exceptional attention to detail that Seb and the team pay to their branding and space.
Training Cave and Vulcan have a very close relationship that epitomises the spirit of the Fight for Peace Alliance. Jack talks passionately about Seb's influence in helping him develop and grow the Training Cave and its support for young people, including how he encouraged him to get his organisation to join the Fight for Peace Alliance. This mutual support and sharing of ideas and learning is at the very heart of what the Alliance is about and Jack now finds himself supporting other like minded organisations in the Alliance to progress on their own journeys.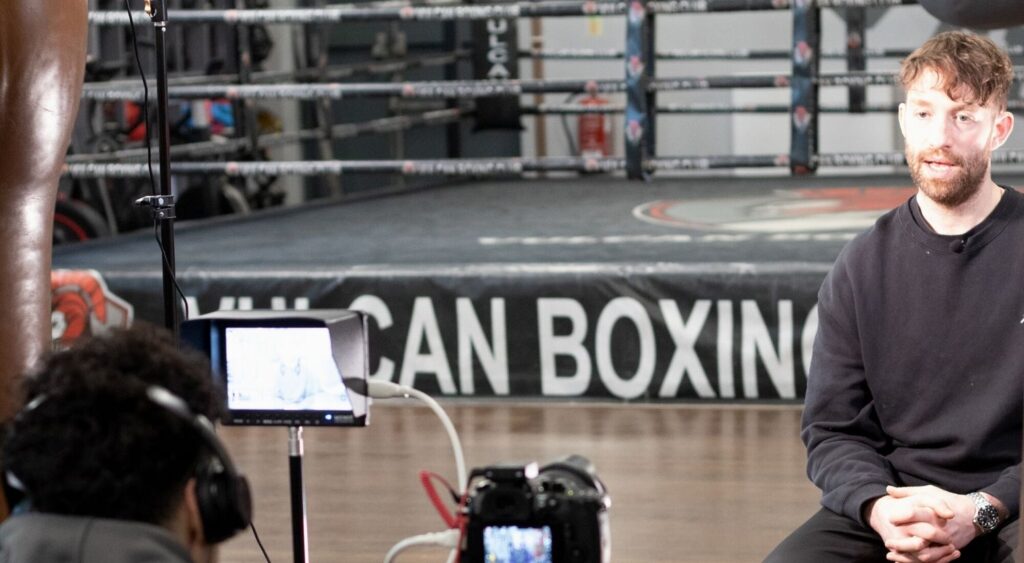 Having had the privilege of spending two days with the young people and staff at Training Cave and Vulcan, the Fight for Peace team now moves on to Northern Ireland where they will be catching up with and capturing footage at three further Alliance organisations based in Belfast and Derry-Londonderry. The Alliance film is due for completion at the end of February and will be released shortly after!
A massive thank you to everyone at the Training Cave and Vulcan for the wonderful welcome they gave Aladdin, Kayla and James, for generously giving up their time to share their ideas about the Alliance, and for opening their doors to the truly inspirational environments that they have created.