With the sunshine blazing in London and our muay thai team training outside in the grass and among the trees of our local park, we took the opportunity to catch up with some of our athletes following a gruelling cardio and technique session.
These sessions are not for the faint hearted. To be the best muay thai athlete you can be, you must put in hours of dedicated hard work to be in optimal physical and mental shape. This recipe of hard work for success of course is applicable to any avenue of life, and any goal that we set our sights on achieving.
As this week is International Men's Health Week, we wanted to know what some of our muay thai athletes thought about the impact martial arts has on their wellbeing, why they loved the sport so much, and what difference training in nature makes.
"After the session, after I have forced myself to do something that's hard, I get this clarity," explained Rio, one of the athletes taking part in the session. "No matter what's going on in my life, I feel the most calm and I can focus on what I need to focus on."
The calm and mental clarity that Rio describes is complemented by the motivation and drive to improve that muay thai gives his team mate Jeremiah:
"I feel like muay thai has a certain ethos of never giving up and always bettering yourself," he says. "I have done muay thai for a long time and there's never a point where I have felt comfortable, I always feel like I am being challenged and that I am working harder. No matter how much fitter I get, how much stronger I get, no matter how many more techniques I learn, I always feel like there is more."
For Andrei, a quiet and driven member of the team, it's the hard work that he loves: "I like that everyone here goes fully in and tries their best," he says.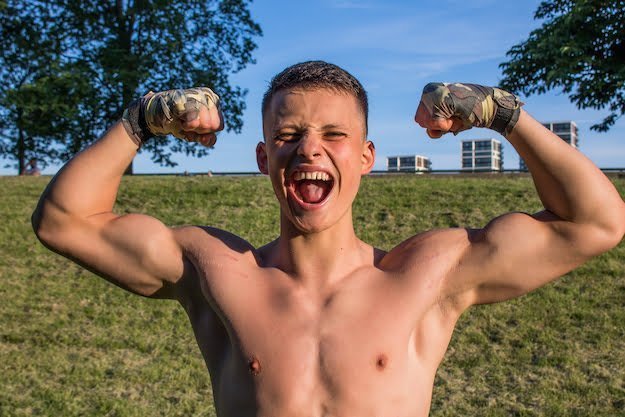 Being outdoors inevitably has an impact on the type of training the team does, and it also brings the benefits of being in proximity with nature.
"You are getting the sun, you are getting recharged, you can take your shoes off and get the feel of the grass, and you get that oxygen," explains Coach Leslee, one of three Fight for Peace muay thai coaches putting the group through their paces. "You are in a team of people that are here to push you and grow with you. You can do muay thai everywhere, but outside it just gives you that extra edge."
"Fresh air and being one with nature, you just feel like you are home," adds Jeremiah. "Everything just feels so much more free. Muay thai is a very spiritual art and so I feel like just being with the ground, being with the earth, with the fresh air just makes everything feel so much more fulfilling."
It is revealing that for these athletes the benefits of muay thai – as with any combat sport or physical activity – are as much mental and spiritual as physical, particularly when surrounded by nature. This is inextricably linked with the ethos of Fight for Peace – building on talents, working together, meeting challenges head on, and reaching your full potential.
This is underlined by Coach Star as she delivers her post training debrief to the team:
"Everything we are learning is about building you as a person, your technique is getting stronger, your mind is getting stronger," she explains. "Everything you learn, take it out into your life. Life is a fight, we always say that, so whatever you learn here, take it out and apply it to your life – you become master of your own life."
Head over to the Fight for Peace Twitter and Instagram all this week to see our men's health coverage, featuring our muay thai athletes, their growth and development, and their insights into martial arts, wellbeing and nature.