Team Fight for Peace rolled out the red carpet for some musical royalty just before the end of 2021 with the visit to our London Academy of Hip Hop artist Konan, of duo Krept and Konan.
Konan was given a tour of our facilities by a group of young leaders and staff members, gaining an in-depth idea of where and how we deliver our programmes and support services, and the impact they have.
In our main gym he got to see a boxing and fitness session involving young people from our neighbouring New Directions PRU, and he climbed into the boxing ring to share some of his perspectives with young people, and find out more about their thoughts and experiences.
"The impact of sport on our mental and physical health is massive, and team Fight for Peace have built a safe environment where young people can get fit while meeting new people and developing their interests, skills and confidence", said Konan as he reflected on his visit to Fight for Peace.
"It was a real pleasure to be greeted by some of our future leaders, with a tour of their Academy and a chance to spend some time with staff and young people. I even got to step into the ring to listen to some of their experiences as well as share some of my own. Big up to all you guys, you inspired me!", he added.
Athena, one of the members of team Fight for Peace that welcomed Konan and showed him around shared what she took from meeting and talking with Konan. "He is a very inspirational role model and he gives me so much hope for what I'll be able to achieve in the future", she said.
The visit coincided with the launching of the Fight Back appeal, which aims to raise £800,000 to ensure that Fight for Peace can support up to 1,200 young people this year at our Academy in North Woolwich.
"Having the support of Konan is so important for us", said Adam Johnson, who is leading the Fight Back appeal. "He is such a fantastic role model and the passion he has for our work and the young people we serve was so obvious when he came to visit. It left us all very inspired. We are really pleased and proud to have him  alongside us, helping us ensure that we are delivering the very best support to young people in 2022 as they develop their skills, talents and futures."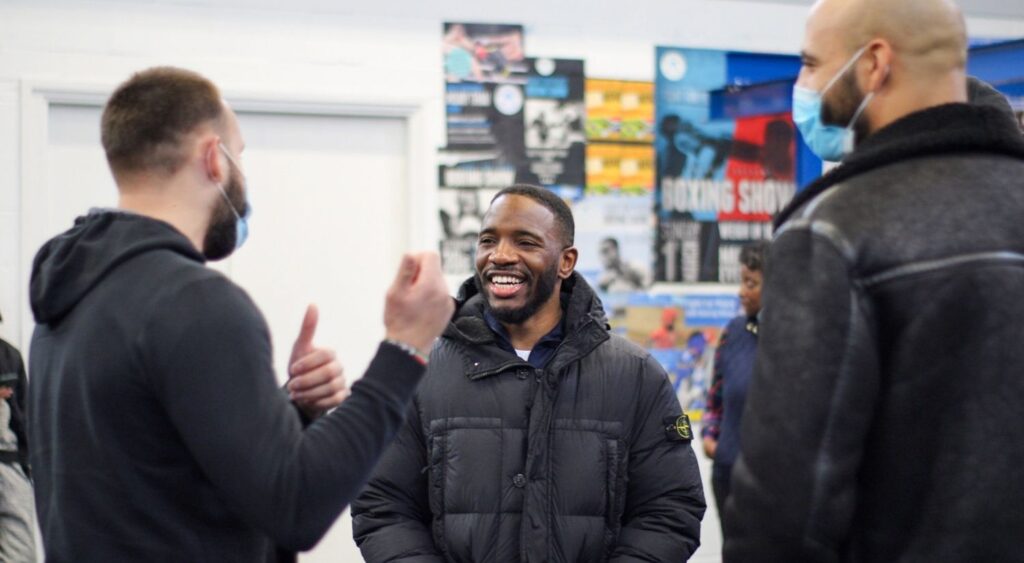 Konan's whole visit was captured brilliantly by filmmaker and Fight for Peace production guru Aladdin Benberna, and you can see the short film in full by heading over to our Youtube channel here.