Fight for Peace Alliance member organisations from across the UK gathered at the Fight for Peace Academy in North Woolwich at the end of March to complete training aimed at developing youth employment programmes for delivery in their local communities.
Pathways to Work is a Fight for Peace Alliance initiative, funded by Laureus and Sport England, which supports community organisations to deliver sport-based programmes that provide young people with the skills and know-how to access and excel in the job market.
This training programme was delivered by Fight for Peace in hybrid form. The first part of the course involved participating Alliance organisations completing online learning over a period of approximately two months, aimed at them gaining a theoretical basis in designing youth employment programmes.
Two days of face to face delivery followed at the Fight for Peace Academy, focusing on the set up and monitoring and evaluation phases that organisations will complete as they design and deliver their programmes.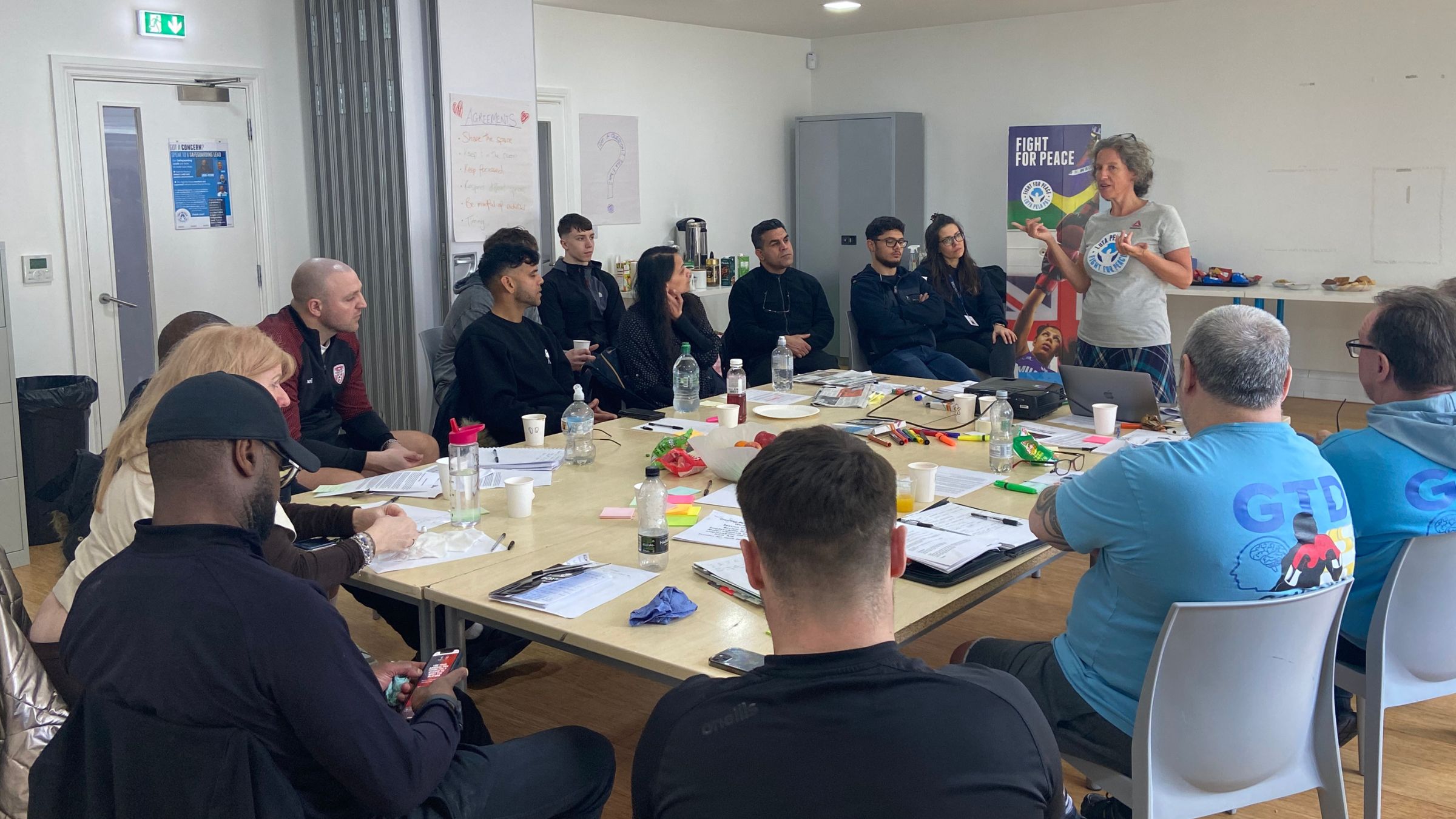 The face to face sessions were also an opportunity for participants to share skills and knowledge and support each other's journeys in the design and implementation of their projects.
"This was a great opportunity to test blended learning because we didn't know if a fully online course would be able to deliver the necessary impact for organisations," explained Bryony Duncan, Fight for Peace's lead trainer on the course.
"It has been awesome this week, the organisations are really open to sharing stuff from their own practice, there has been a really nice vibe of sharing. This is why we do it in a group setting so that they can then support each other through this," said Bryony.
Being together in the same physical space for two days created a fertile environment for participants to share ideas and experiences, helping strengthen the projects, and developing thinking about how to make them sustainable in the long term.
"It's been fantastic being on the course with other organisations, sharing ideas," commented Sean Readman from Go The Distance, one of the participating Alliance member organisations. "Fight for Peace is planting the seeds and we are all firing off each other, and picking up little bits and pieces."
"The course has opened my eyes to so many things. The online training was really good, we had to really start thinking about how we were going to build the project. Then when we came down to Fight for Peace yesterday for the classroom based stuff and it just made me think, the opportunities are so huge that we can affect so many young people," added Sean.
"We are confident we can put together a really, really good employment programme that will be varied and dynamic for the young people that come in to give them a real opportunity."
We extend a huge congratulations to all of the Alliance organisations that completed the Pathways to Work training, all of whom had funding for their youth employment projects approved during the face to face phase of the course. We are excited to see how the programmes now develop, and the impact they have on the young people and communities in which they are delivered.
The Alliance organisations participating on Pathways to Work are: Burnage Academy for Boys (Manchester), EXCEL (Excellence Through Exercise and Learning) (Derry-Londonderry), Go the Distance (Durham), Hangar Community Hub CIC Limited (Cardiff), Pat Benson Boxing Academy (Birmingham), Sporting Chance (Newcastle), The Compound (Wellingborough), The Hideaway Project (Manchester).